Delicious allows you to add bookmarks to your account via email. This is a simple way to update your bookmarks from a mobile device and from your work computer. The email method not only allows you to save the URL and title of the page, but also any tags and comments you wish to include and the privacy setting as well.
You will need to set up your unique email address for your Delicious account.
1. Go to Delicious and login to your account.
2. Go to the upper-right corner of the page. Mouseover your name and select Settings from the resulting menu.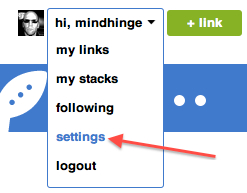 3. Scroll down to the @d.me section.
4. Input your secret email key and click save.

Your address for emailing bookmarks to Delicious will be yourusername+yoursecretkey@d.me. Add this email address to your mobile device's contacts.
When you want to send a bookmark of a page you are viewing on your phone, simply use the browser's Email Page function and send it to your saved contact. Use the subject line of the email to give the link a title. In the body of the email, after the URL, type Tags: (or T:) and add the appropriate tags for your post. Use Comment: (or C:) followed by any commentary your wish to add. If you don't wish to share the post with others, use Privacy: (or P:) Yes. An example would look like this:
Subject:. Tech-Recipes
T: tutorials, windows, mac, linux, android, ios
C: Great site for tech tutorials.
P: No
Send the email and the bookmark will be posted to your Delicious account.