How would it feel like to have your Whatsapp, Facebook, Twitter, and Instagram just in a single app? Is it gonna be user-friendly and time-saving right? This article will show you how to link Facebook to Instagram.
It's normal to detect stress and use things that are easier to access or toggle. Let's say you have an app that integrates all the social media and instant messaging platforms, everything would just be so effortless, time-saving, and sweet.
Now, let's be more realistic and straightforward.
Facebook is a social media platform with a lot of users like the stars in the sky. Gosh, it's so packed. Talking about Instagram, it's just another social room full of users, photos, videos, hashtags and other interesting stuff.
How would you feel if you can access your Instagram important notifications plus other stuff? It already feels good hearing it right? Good!
Since Facebook and Instagram are controlled by one body, having the two app work together and accessible on a single app makes a lot of sense.
If this is your first time of reading this, you are lucky. You are going to find out something that has been really helpful to a lot of people, and even me.
Well, before we proceed, I would like to be sure of something simple.
Do you have a Facebook and Instagram account? I know your answer is a big yes.
I have a friend who is a social media freak. He spends a lot of hours on Facebook and immediately he minimises the Facebook app, you might think he wants to rest a bit. But, nope. He immediately goes to the Instagram app and then continues from there.
The circle keeps repeating itself, provided his Samsung Galaxy S7 is charged and connected to a mobile data network. There are so many people like him out there. Yes, even you reading this post might find it natural to spend time on Facebook and Instagram.
So, what's all the talking about? I am going to show you how to connect/link your two social media platforms(Facebook and Instagram)
It like saying, accessing your Facebook and Instagram on a single app. Although, that doesn't categorically mean you can do all you want on Facebook linked to Instagram. Just let me lead you and you would be glad you did.
How to link Facebook to Instagram
Like the title specifically states, you are gonna know how to link Facebook to Instagram.
As normal, it's good to always have the latest version of an app on your phone to get some improvements, bug fixes, and support. So, go get the newest version of Facebook from the app store.
Below are the steps you need to take to link Facebook to Instagram.
1. Open and login to your Instagram app on your smartphone(Android, iOS)
2. Click on your profile icon at the bottom right of the app.

3. Click on the 3 dotted icon at the top right of your screen.

4. Scroll down and click on linked account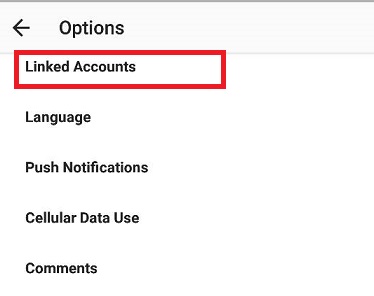 5. Select Facebook from the list.
It will take some seconds, and Facebook will be automatically linked to your Instagram. Now you can continue enjoying the social fun.
That's how simple and straightforward it is to link Facebook to Instagram. Enjoy the perfect combination of your favorite social media platforms.