Are you wondering how you can transfer domain to GoDaddy? Then, this guide is for you. GoDaddy sits among the largest domain registrars. This web hosting platform offers various hosting services, besides domain registration – such as WordPress, VPS, dedicated hosting, and shared hosting. If you plan to migrate to GoDaddy, you will join a well-established company known for its excellent services for a couple of years.
Transferring your domain to GoDaddy is a simple and straightforward process. All that you need is to adhere to simple instructions, and you will be good to go. First, you need to sign up to GoDaddy, if you already haven't, and finish your account. Then, start preparing for the process. Read on to find out how it is all done. It's important to note that you will be charged a fee when you transfer domain to GoDaddy. However, it is quite affordable and it is worth it in the end.
Some preparations
You don't have to worry about how to transfer your domain from your current hosting to GoDaddy. It is an easy process. First, you will need to prepare your domain name using the below steps.
Unlock your domain name – Start by unlocking your domain name held by your current registrar.
Expect an authorisation code – Your current registrar will send you an authorisation code.
Verify contact information – You must verify the contact information on your domain name.
Once the above preparation is set and your domain name is ready, you can initiate the transfer process with GoDaddy.
Start the transfer
Step 1
We're starting very simple. Open the GoDaddy website and log into your account
Step 2
Next, find your Domains section from the Menu.
Step 3
Once you're into your Domain Portfolio, look for Transfers on the left side. Here you can choose between transferring your domain to GoDaddy from another registrar or between GoDaddy accounts. We are choosing Registrar.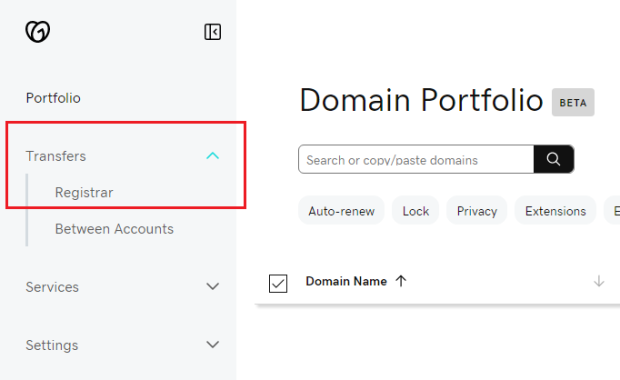 Step 4
There we are – on the Domain Transfer page. Now, you need to click on New Transfer.

Step 5
It's time to add the domain or domains you wish to move. If there is more than one, you would have to type each on a separate line. Furthermore, you can add up to 500 domains. When you're done click on Continue.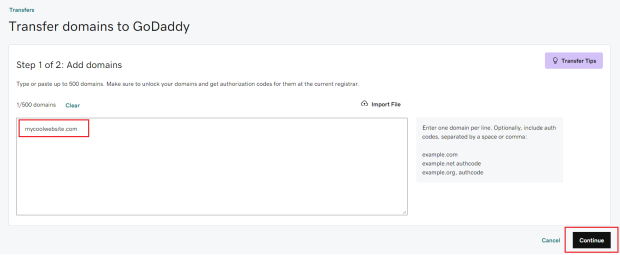 Step 6
Now that you've chosen your domain/s, you can take a look at the Summary. Don't forget to double check if all the information is correct. Here you can also check the estimated subtotal of the entire transfer – as we mentioned above, there is a transfer fee. When you are done checking, click on Go To Checkout.

Step 7
Only thing left to do now is go through the checkout process – take one final look and choose the length of your subscription. Additionally, you can choose to add domain protection. Then, click on I'm Ready To Pay.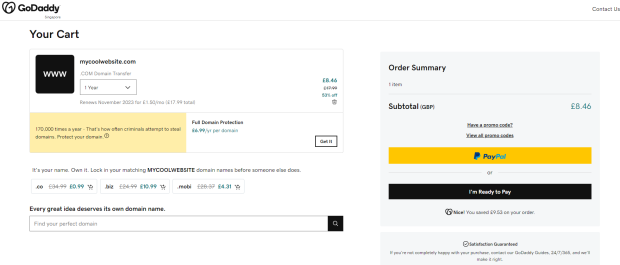 Now, just finish the checkout – add your details, payment method, etc. Et voilà – the process is complete!
Please note that when you transfer a domain it might take up to 7 days, so don't worry that you've done something wrong. You can always check the status from the Transfers page in your account.
Why transfer to GoDaddy?
There are many benefits that a domain transfer to GoDaddy offers its clients. Here are some of the great features you will like about GoDaddy's hosting.
Great page load time
One of the reasons many people prefer hosting their site with GoDaddy is that it offers excellent page loading time. The average page loading time for this platform is below 280ms.
Large domain registrars
GoDaddy sits among the far-reaching domain name registrars. When you transfer a domain to this platform, expect to access any domain extension such as .com, .net, .org, .law, or even .today.
Provides shared hosting plans
This web hosting platform provides a shared hosting plan that costs between $8.99 and $24.99. This feature allows you to share your server with other clients at a cheaper rate.
Provides WordPress
GoDaddy provides its client with WordPress pre-installed with a selection of themes. The site also offers WordPress optimised shared hosting services.
Final thoughts
When you transfer domain to GoDaddy, as long as you plan adequately, your site never has to be offline or unavailable. GoDaddy is a solid choice as one of the largest domain registrars on the market. Furthermore, if you decide to do so you can easily migrate your entire website as they offer a ton of great hosting deals.
The best part of it all – you don't need a ton of technical expertise
---
FAQ