Some people have completely ditched traditional phones for the super cheap alternative known as Skype. Are you you a hard working business man who wants to save a business call to remember key points? This free software tool that will let you record your Skype calls!
Skype is a wonderful tool. It has dirt cheap rates for unlimited calls in the US. I often use it to interact with customers. Sometimes I want to record the conversations so I can remember key points of a job. I spent a good few months trying out trials of recording software and there is a lot of terrible freeware options. But recently I found the best of free Skype recorders: MP3 Skype Recorder.
Here's the screencast with text/picture directions below.
Let's get into it.
1) Download MP3 Skype Recorder free from here.
2) Open MP3 Skype Recorder, then open Skype. When it's your first time doing so, Skype will ask if it should give this program access, click yes.
3) Here are my settings on the program:
4) To start recording simply make your Skype call and hit the big red record button. A window will pop up to let you know it is recording your call.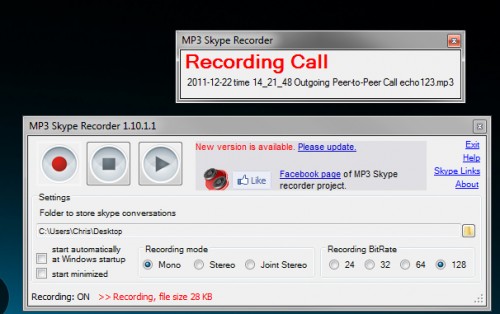 5) When you want to stop recording, hit the stop button to the right of the red record button. A compressed MP3 file will show up on your target destination folder.