The young sapling, TikTok, has blossomed into a full-blown app since its inception in 2017. The makers of TikTok now proudly claim that their app is the leader in short-clips and videos. And their claims aren't unfounded. Giving a cursory glance at the app's homepage will show you people are going batshit crazy, making content, and letting their presence known. It's taken such massive strides in its popularity that it now has its own celebrities and superstars.
You, too, can join this crop, and cement your name in TikTok's hall of fame. And yes, make a truckload of money while you're at it.
TikTok Monetization: A Comprehensive Guide
According to 2019 estimates, TikTok boasts a user base of approximately 500 million users. So, competing with this number won't be easy.
However, still, there's no questioning that given the right guidance and direction, you can make quick money with TikTok. According to Indianabeats, Indian TikTok stars like Jannat Zubair and Faisal Shaikh has more following than Ariana Grande. Their prospects on the platform are massive.
Although the app isn't necessarily centered on a money-making bedrock, it's commercial-friendly and rewards consistent content-producers.
As of now (September 2019), TikTok doesn't have channels through which it shares ad revenues with its users. However, that's soon about to change and even without it, there are other channels you can utilize.
In this Tech-Recipe, we will outline the routes you can take to make money on TikTok.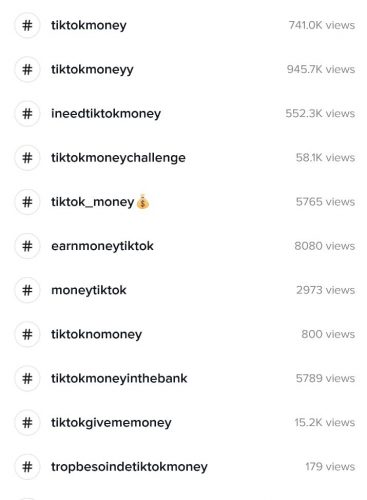 Please keep in mind that this isn't one of those guides that makes hollow promises of shooting you to instant stardom. Getting famous on TikTok and earning money is as gradual a process as is on any other platform – say Facebook or Instagram.
If you think that without giving the app the time it deserves and posting unoriginal and scarce content, you can make a respectable living, then you're harboring massive misconceptions. Go into this article, stepping them aside, and start on the right foot, with a pragmatic and realistic approach.
First Channel: Become a TikTok Influencer
Okay, the most popular method of monetization is working as an influencer. The term "influencer" has received a lot of bad rep in the past few months and rightly so. When every inexperienced, cocky teenager is going to use illegitimate channels and buy a couple of thousand fake followers, what do you expect?
Keep in mind that being an influencer isn't a piece of cake. Unless you're David Beckham, and you have a digital dream team behind you, it isn't going to come easy.
You can bargain for a couple of fake reviews but it's not going to sustain, and sooner rather than later the mask is going to fall off and cause irrevocable damage to your image.
Authentic influencers follow organic methods to win over the hearts of people.
One of the biggest influencers of the digital marketing age is Neil Patel. The man isn't a sellout, he's actually a guy who loves his work, and commits vigorously to its demands.
No wonder big companies, like Microsoft and Google, are lining up to use his services. Even after earning so much fame, he actually goes out of his way to educate the new generation and influence their decisions and paths.
Whether you're a digital marketing guru like Neil, or have some other talents, like being a Vlogger or photographer, decide first. Then, proceed to post unique and valuable content to your followers. This is the only true way if you want to influence people. There are no shortcuts. No gimmicks.
After deciding on how you're going to provide value to your audience and earning a massive following, it's time to monetize.
For this part, all you have to do is recommend, through your videos, the services and products that you'd recommend and think are worthy of a mention. This will include any brands, musicians, vocalists, clothing stores, anything that you can sign a branding deal with.
Remember, you need to have a huge number of followers for this to work. Only then your dream of earning thousands of dollars can actualize.
Read Related: How to Delete your Tik Toks 
Second Channel:  Live.ly (TikTok's Live Streaming App)
The easiest way of monetizing yourself on Tik Tok is through Live.ly, TikTok's or formerly Musical.ly's (hence the connection) live streaming app.
Live.ly made an appearance somewhere around june of 2016. In only two weeks, according to variety, some of its rising stars earned more than 46k$. That's a number to be reckoned with!
However, there are some terms and conditions you should pay heed to before using this app. Account the 30% cut of Apple iTunes, and TikTok's 20%, and also the cuts imposed upon by Google, with which TikTok also shares some sort of arrangement.
Understanding Live.ly's Payments
This is a complete breakdown of Live.ly's payment system for extended guidance.
As a live.ly user, you buy virtual coins. 100 coins cost a fixed .99$.

If your videos are worth watching, and engage your viewers, they buy emojis that pop up on your live video with their virtual currency. The price of these emojis varies, and can cost anywhere between five cents to 50$, depending upon the emojis significance and overall popularity.

The most eager buyers are displayed on the top-right corner of your live stream. Their name flashes in pipping pink in this section.

If you're performing well on the app, you can even encourage or give a shout to your most charitable fans to help you out.

Young users do get a lot out of this. The more they donate, the more they get under the public limelight, and the more ease they have in increasing their own TikTok fan base. So, it's not like they don't have an incentive to donate. They do!

And every place has those fanatic collectors that collect the emojis to show off or simply for the heck of it.
One thing you can do to step it up a notch by display the name of your top donators on honor boards on your homepages to encourage others.
Who doesn't love having their name flashed in glitter? It's like a plane in the sky twisting and turning to spell out a name with its white tuft of engine smoke, for the entire world to see.
Update: As reported by Variety, Musical.ly has shut down Live.ly as of March 2018.
Read More: How to Block Someone on Tik Tok
Third Channel: Promoting Your Own E-Commerce Business
Of course, if you're unable to win branding deals with companies, despite having a massive fan base, you can always promote your own E-commerce business.
Many TikTok users have turned their attentions to these channels and massively shoot their earnings. You can promote your own merchandise, advertise your own blog, or any other product or service or product of your own making. the possibilities are endless.
Having difficulty adding text to your TikToks, check this extended guide on how to add text to tik tok videos.
And this for changing your age on TikTok to prevent an underage ban.