Ill-intended people will never stop to try and hack accounts for their personal gain. Increase your privacy and security be learning how to secure your Whatsapp account by adding a layer of verification. This article will teach you how to enable two-step verification process on WhatsApp.
So you just removed and disabled your WhatsApp account. Great. You can now rest and be assured that your WhatsApp will no longer be accessed. Wrong. You see, there are a lot of ways hackers can access your account. Also, if you are getting rid of your number, cellular networks will reprocess your phone number. This means that the person who has your new cellphone number may get access to your personal information once he registers to WhatsApp using the same number. So how will you protect yourself? It's easy. Enable the two-step verification on WhatsApp to put the second code before someone can gain access to your account. This article will guide you on the steps.
How to Secure Your WhatsApp Account
To secure your WhatsApp account from unauthorized access whenever someone registers using your phone number again, follow these steps:
1. On your Home screen open your Whatsapp application. It's a speech bubble with a phone icon on a green background. If you're using an iPhone, you might have mistaken your Messages app with this one.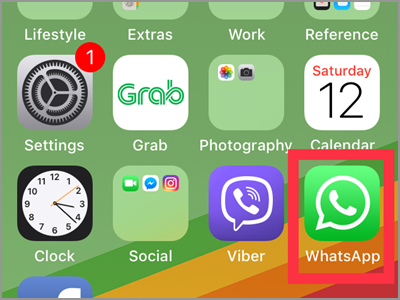 2. Go to your Settings page. Tap the icon in the lower right corner of your screen.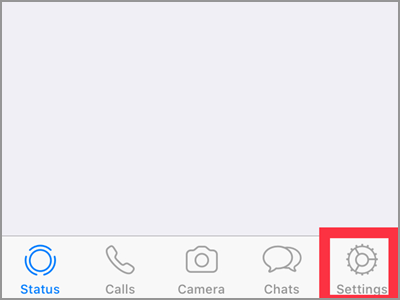 3. Tap the Account tab.

4. The Two-Step Verification option is positioned after the Security tab. Tap the option and you will see the Enable button.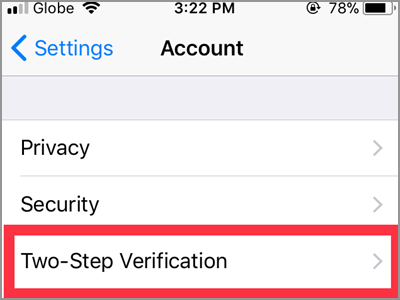 5. The next screen will state a short description about the two-step verification feature. Click the Enable button located down the brief definition.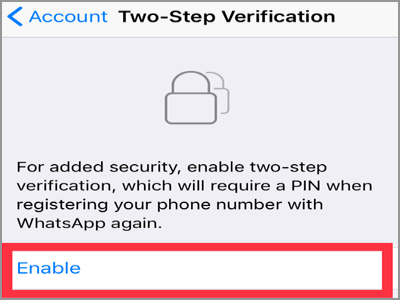 6. Type in your 6-digit PIN. This code will be the second way to verify your account once you register again.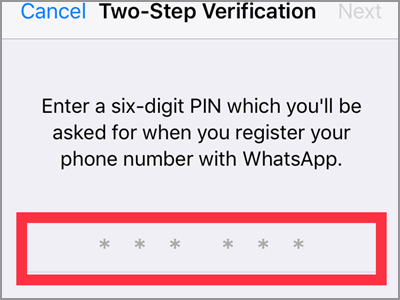 7. Re-enter your PIN code to confirm.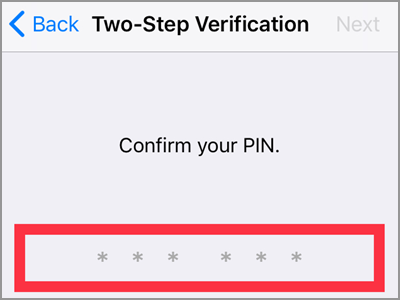 8. Provide a valid and correct email address.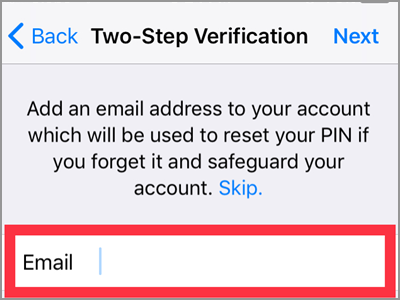 9. Tap the Next button placed on the upper right corner.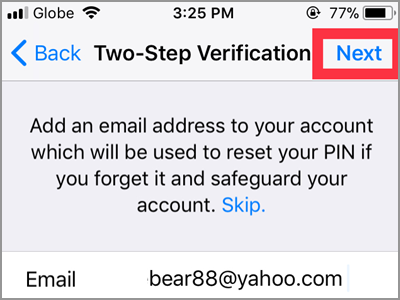 10. Affirm by giving the same email address. Then tap the Done button. The activation for your two-step verification should only take a few seconds.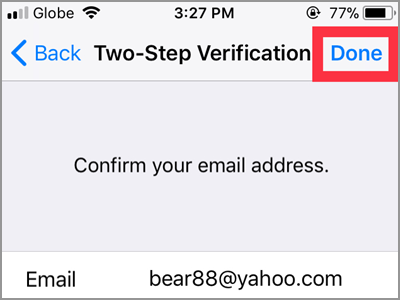 Frequently Asked Questions
Q: I've noticed the Skip button when giving an email address. What will happen if I skipped this method and didn't provide any email address?
A: You can choose not to give any email address. After all, the app won't force you to do it that's why it's only optional. But, you're stuck if you forgot your PIN. It's because the app will only send a link to turn off the two-step verification through your email. If you don't like this to happen and won't like to give your email address,
don't forget your PIN.
Q: How does the six-digit PIN secure my account from someone who wants to access it?
A: Anyone with access to your phone or phone number can get into your Whatsapp account. And that person could invade your chats and messages stored in the app. Because it's simple. Just register your number, then input the OTP that sent through SMS. And Voila! But with this feature, anyone (even you) who tries to get into your account, the app will ask the six-digit PIN. This is aside from the OTP you need to give in the verification process. And unlike others, you alone have the knowledge about the PIN code.
Q: There were times that Whatsapp asked me to enter my PIN. Why and how can I stop it from doing so?
A: To your question "why" the app would just like to make sure you still know your PIN. It's like a reminder of what's your PIN. The more you enter it, the greater the chance that you won't forget it. And unfortunately, there's no way of stopping Whatsapp to do that.
Make sure to take note of your six-digit PIN if you enable your two-step verification process. Also, make sure that the email address you provided is valid and accessible. There is no way to access your account without this six-digit PIN or the email address.
You just learned how to enable two-step verification on WhatsApp. If you have questions about any of the steps above, let us know in the comments section.