Viruses, malware, and spyware often block antivirus and recovery tools from running. Corrupted files or drivers may prevent your desktop from loading correctly. If you can at least boot to a command prompt, you have a good shot of restoring your system with Windows System Restore.
Booting to safe mode and running System Restore is a trick that will get you out of many problems. Many people have used this technique when I first wrote about it in XP back in 2004. Microsoft has continued this feature, and it still works correctly all the latest versions of Windows including Vista and Windows 7.
1.  Restart your computer.
2.  During the boot process, press F8 to enter Safe Mode.
    Select Safe Mode with Command Prompt.  Press Enter.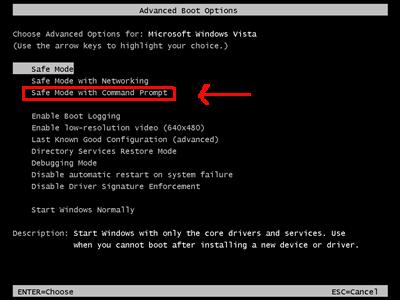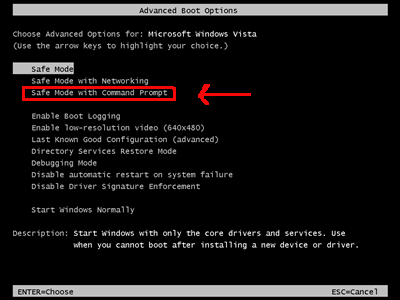 3.  Select the OS (if multiple boot options are shown). Press Enter.
    
4.  Select your User Account.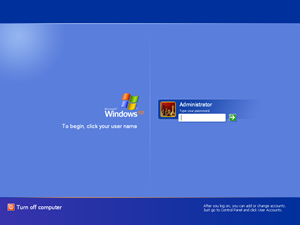 5.  A command prompt window will open.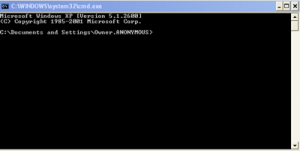 6.   For Windows 7 type rstrui.exe and press Enter.
      For Windows XP type %systemroot%\system32\restore\rstrui.exe
7.  System Restore will open.
     Select Restore my computer to an earlier time.
     Click the Next button.
8.  Select a date you would like to restore your computer to and click next.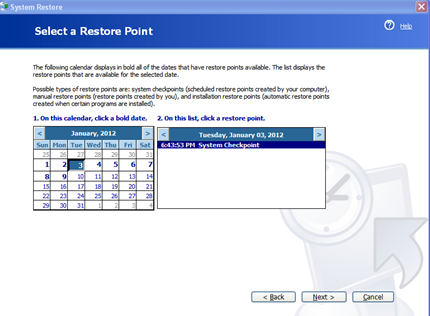 9.  You are done!  Windows will prompt you when the process is complete.
10. Enjoy your restored computer!