The 'Nintendo Wii' Archives
Posted August 27, 2012 by Jimmy S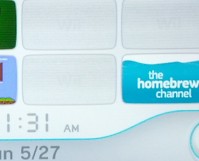 This tutorial will explain how to softmod your Nintendo Wii running 4.3x firmware. By softmodding your Wii, you can then run homebrew software and even emulators.
Posted January 12, 2012 by David Kirk
Following these steps will permanently sync the bluetooth of a new controller to a Nintendo Wii console system.
Posted July 8, 2008 by Rob Rogers
Periodically, Nintendo posts updates to add new features to the Wii. You can perform a system update to get the latest goodies by following this Tech-Recipe.
Posted July 6, 2008 by Rob Rogers
Some TV screens are prone to screen burn in when a stationary image is displayed over a long period of time. To prevent this, the Wii has a Screen Burn in Reduction feature that fades the screen when your game is paused for more than 5 minutes.
Posted July 5, 2008 by Rob Rogers
Creating Mii's takes a little time to master. Your first few creations might be something you'd like to hide from the eyes of others. You can delete Mii Characters by following this Tech-Recipe.
Posted June 20, 2008 by Rob Rogers
You can save as many as 10 Mii characters to your Wiimote, making it simple to take your favorite characters with you when you go gaming at a friend's house.
Posted June 19, 2008 by Rob Rogers
The disc slot on the Wii glows a brilliant blue when you have an unread message on your console. You may wish to dim or even disable the illumination if you find it to be distracting.
Posted January 17, 2008 by Al Banks
I had an experience where the 2nd controller in Virtual Console would only move, not jump. This happened with both the WiiMote and the Classic Controller.
Posted January 9, 2008 by Rob Rogers
If your wireless router uses MAC filtering, you will need to know the MAC address of your device so that it may connect to the internet for updates and gaming.
Posted December 27, 2007 by Rob Rogers
The Wii remote control (Wiimote) allows you to feel vibrations (rumbles) during gameplay on certain titles. While this is intended to add a sense of realism to the game, some users find this to be a distraction. To disable the rumble effect, follow these steps:
Posted August 7, 2007 by David Kirk
A recent wii update puts the clock on the main menu screen. Suddenly, a lot of people (including me) realized that often the time on the wii is not set accurately. Therefore, here are the instructions how how to set the correct time on the wii.
Posted April 20, 2007 by Rob Rogers
Instead of relying on the Internet Channel's toolbar to operate the web browser, use the Wii remote buttons. This can be a real time saver since you won't have to aim the remote to click the proper button on the toolbar.