iPhoto: Add Facebook and Flickr Accounts
Posted October 20, 2010 by David Kirk in Apple Mac
WIth iLIfe '11, iPhoto easily interacts with Facebook and Flickr. To enjoy this new integration, this tutorial shows you to sync your Facebook and Flickr accounts to iPhoto.
You will need iLife '11 or greater to follow these directions.
1. Open iPhoto
2. Select Preferences from the iPhoto menu
3. Select Accounts
4. Click the + sign under the accounts
5. Select Facebook or Flickr to sync your accounts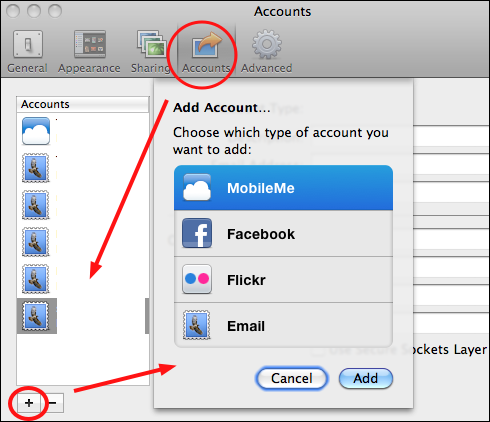 For Facebook you will be able to sync by entering your email and password into supplied dialog box. For Flickr you'll be redirected to the Flickr web site for authentication. After you authenticate with the Flickr website, you may need to hit the setup button in the Flickr dialog box again to show that the sync has been accomplished.
David Kirk is one of the original founders of tech-recipes and is currently serving as editor-in-chief. Not only has he been crafting tutorials for over ten years, but in his other life he also enjoys taking care of critically ill patients as an ICU physician.
View more articles by David Kirk
The Conversation
Follow the reactions below and share your own thoughts.