Windows: Speed Up Shut Down Time via Registry
Posted January 18, 2013 by Alex Bahdanovich in Microsoft Vista, Windows, Windows 7, Windows 8
You may have an obvious delay between the press of the shutdown button and the actual shutdown of your Windows operating system. This registry tweak works in all versions of Windows including Windows 7 and Windows 8.
Many users wait until their computers have fully finished turning off before leaving them. This may be either for safety or for confidentiality concerns. Some computers, especially older ones, take much longer to turn off than some users would like. The time it takes your computer to turn off should be considerably less than it takes to power on.
Typically this shutdown delay is caused by Windows waiting for applications and services to respond to the shutdown command. During this time (WaitToKillServiceTimeout) these applications and services are attempting to clean up and exit gracefully. If this does not occur, the user receives a warning message that gives the option to wait or to kill the process.
By tweaking the registry, Windows will be less patient in waiting for the shutdown process, and the user will see the option to force the termination of the processes much more quickly.
Microsoft has already decreased the shutdown time in Windows 8 although you can use this method to additionally improve the speed. Through the tweak, Vista and Windows 7 systems will shutdown much quicker. In fact, this registry hack has been widely used since Windows 2000.
Incorrectly editing the registry can break your system. Be cautious.
1.Search for regeditand open it up.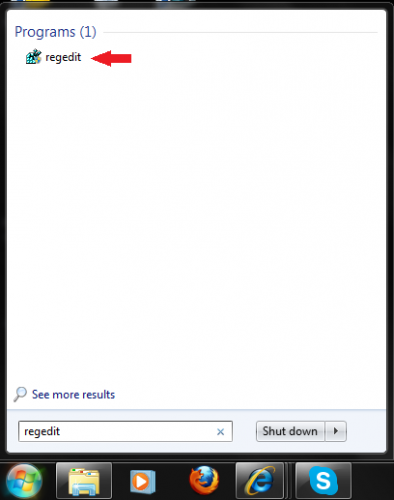 2.Once in the Registry Editor, navigate to the Control key by following this path:
HKEY_LOCAL_MACHINE\SYSTEM\CurrentControlSet\Control
3.Right-click on WaitToKillServiceTimeout, and select Modify from the drop-down list.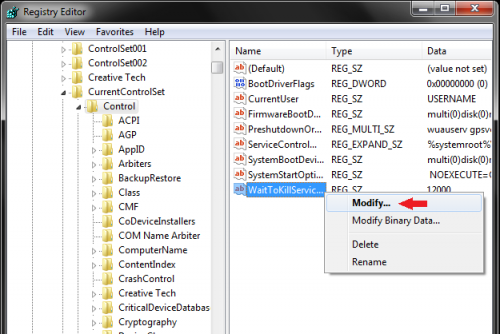 4.Now, change the data value to 2000, and click OK to save the new value data. 2000 is 2 seconds. The default for Windows 8 is already 5000 or 5 seconds. Other Windows versions defaulted at 20000 or 20 seconds.
You should now notice that your computer shuts down considerably faster.
The Conversation
Follow the reactions below and share your own thoughts.