How Do I Share My Internet Connection in OS X?
Posted July 15, 2011 by David Kirk in Apple Mac, Mac networking
Last Updated on
Currently, my hotel only has wired internet access–how quaint. Considering I forgot my mobile router, this would seem to leave me without the ability to get wifi to my iPad and other mobile devices. Luckily, sharing an ethernet connection via AirPort on my macbook is fairly easy.
I typically bring an AirPort Extreme and power strip with me in my computer bag. These two devices have made me many friends when using my computer from the airport or other public place. But, I forgot my router this time.
Sharing an internet connection in OS X is actually really easy. You can even password protect it.
1. Click the Sharing icon in your Preferences
2. Select (but do not enable) Internet Sharing. You are mostly likely going to want to select Share your connection from Ethernet and To computers using AirPort.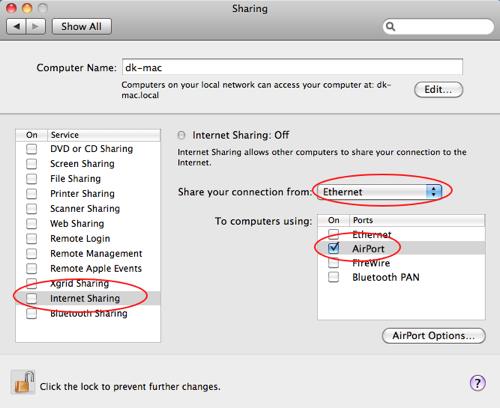 Sharing ethernet over AirPort is the most common way to internet share with your mac; however, certainly other combinations are available. I've shared internet from my cellular modem over AirPort before. Once, I even received internet from wifi and shared it to local Bluetooth.
If you cannot change the setting and the selections above are disabled and gray, you probably have already enabled internet sharing. Disable it temporarily and you should be able to edit the settings.
3. If you would like to set a password, click the AirPort Options… button. Just like a router, you can set the network name, channel, WEP encryption, and WEP Key Length. If you are sharing with non-Apple computers remember that your password can only be 5 characters for 40-bit WEP or 13 characters for 128-bit WEP.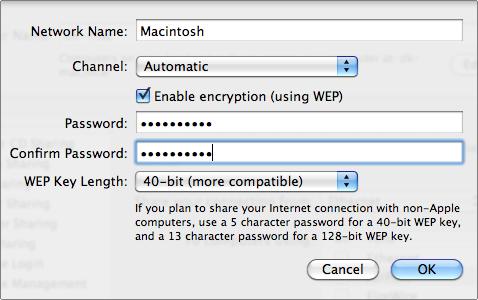 4. Now click the Internet Sharing On checkbox to enable. Click Start from the confirmation box that appears.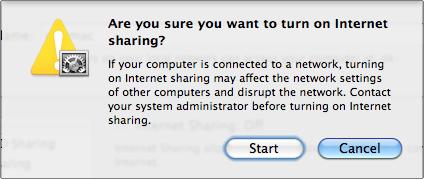 5. Before you leave the Sharing dialog box, this is a good time to double check what other sharing systems you have enabled. If you are sharing your internet access with people you don't know very well, you may not want to have File Sharing enabled, for example.
David Kirk is one of the original founders of tech-recipes and is currently serving as editor-in-chief. Not only has he been crafting tutorials for over ten years, but in his other life he also enjoys taking care of critically ill patients as an ICU physician.
View more articles by David Kirk
The Conversation
Follow the reactions below and share your own thoughts.