Tumblr is both a social networking site and a microblogging site. Since the Tumblr-Yahoo collaboration, deletion processes have been made quite simple in Tumblr, much like everything else on this popular social platform has been simplified and made more user-friendly.
Deleting your Tumblr account is now just as swift as, say, opening a drop-down menu somewhere on the site. However, before you decide to delete your Tumblr account, keep in mind that this action cannot be undone. Once you delete your account, your Tumblr blog content will vanish forever – unless you have exported it onto another Tumblr blog.
Following are the two different methods of deleting your Tumblr account through a web browser.
Method 1: How to Delete Your Tumblr Account
1. Open Tumblr and sign in to your account.
2. Click on your profile image.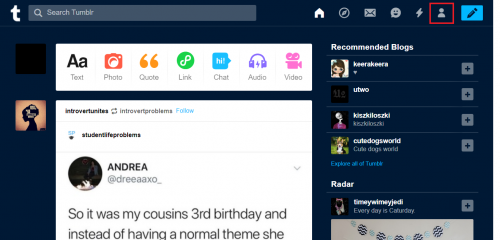 3. Select Settings.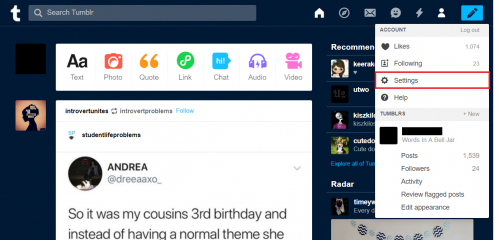 4. Scroll down to the redirected page and click Delete Account.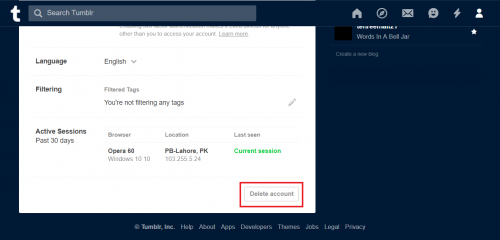 5. Tumblr will prompt you to enter your email and password. Tye them and tap delete everything.
Method 2: For Deleting Your Tumblr Blog
1. Go to your Tumblr account homepage. Click on your profile image.
2. Select Edit Appearance at the bottom.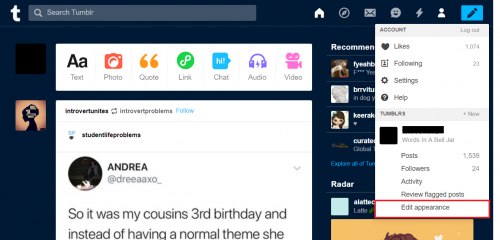 3. Click on Delete Account button from the redirected page.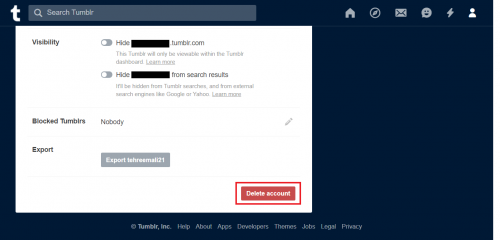 4. Enter your email and password.
 It is just as simple to delete your Tumblr account through the Tumblr app, as the following steps demonstrate:
How to Delete Your Tumblr Account through the Tumblr App
1.  Open your Tumblr app. Click on the profile button on the far right
2. On your profile page click on the Settings icon on the top right corner.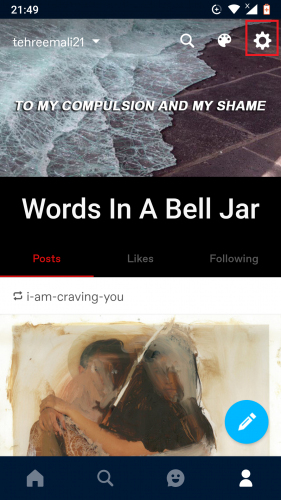 3. Scroll down to the Delete this Tumblr option.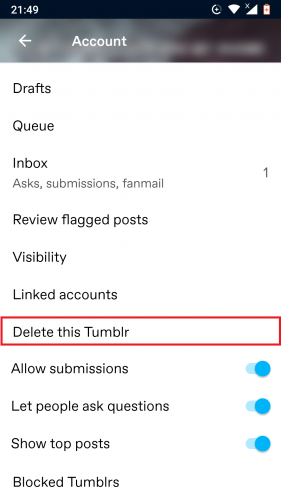 4. Enter your password at the prompt.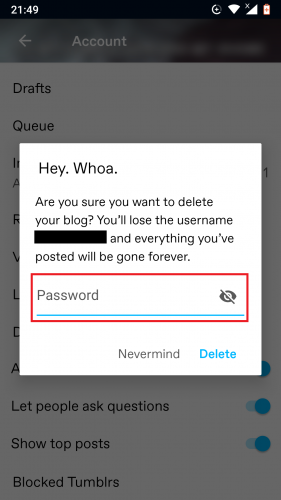 Deleting Tumblr Account versus Deleting Tumblr Blog(s)
 Many users mistake deleting Tumblr block is the same as deleting a Tumblr account…but it is not. When you create your Tumblr account, space from which you upload, create and post content as well as follow other blogs is your primary blog.
Other private membership blogs you opt to set up after creating that primary blog are secondary blogs. All such secondary and primary blogs are connected to your main Tumblr account. You could either delete a secondary blog alone or delete your whole Tumblr account, which would, of course, delete all the blogs set up within it.
Related: Add Custom CSS to Tweak your Tumblr Theme.
Why Deleting Tumblr Accounts is Possibly a 'Safety Measure'
Tumblr is no stranger to controversial happenstances. Back in 2018, Tumblr issued a publicly-unwanted ban on adult content. After this the iOS store temporarily removed the app from their store, discovering Tumblr had been used to share child pornographic content.
Further back in 2016, Tumblr had to face serious threats of users' emails and passwords being hacked and salted. Tumblr released a statement claiming it had 'fixed a bug that appeared in the Recommended Blogs module accessed through the desktop site' also stirred many users to again think what all these events had them thinking all along – deleting their Tumblr account altogether.