How to get the Best Deals on Tech Splurges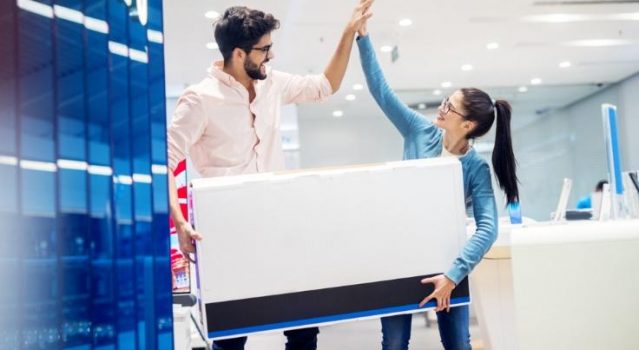 Congratulations! You've decided to splurge on new tech. You deserve it. You've worked your butt off. Is there any better way to spend your money than on the hot new stuff coming out of Silicon Valley? We think not.
But just because you're splurging, doesn't mean you should avoid looking at the price tags of the things you're buying. Save money where you can. The more money you save, the more tech you can buy. Here's some advice on how to get the best deals on tech splurges.
Shop Prices
Never make a purchase without first checking to see if you can't find the same product for less at another outlet. This is the golden rule for saving money when you're shopping. It doesn't matter whether you're shopping at retail brick and mortar stores or online, you should always seek out the best possible price for whatever you want to buy.
The key to price shopping is knowing exactly what you want. If you know exactly what TV, computer, or home audio system you want, then you have your work cut out for you. Just check all the nearby retailers or check a variety of different websites until you find the place that offers the cheapest price (most of the time, a simple Google search will bring up the cheapest prices for that product).
Some products, like TVs, are very large and will most likely need to be delivered to your home. Anything your order online will need to be delivered, too. Always inquire about shipping and handling costs before you make the purchase. Online retailers will usually give you shipping costs upfront. You'll need to ask the associates at retail stores how much shipping will be.
Remember that shipping can be extremely expensive. Even though a retailer may offer a product at a cheaper price than its competitors, a high shipping cost could actually make it more expensive. Keep this in mind when you're buying an item that needs delivery. If possible, use a truck and pick up the large product from the retailer yourself.
Buy Seasonally
The prices of tech products fluctuate throughout the year, and there are seasons during which prices will fall. Research the best time of year to buy a laptop, or the best time of year to buy home entertainment equipment. Sometimes, it's around holidays. Other times, it's the beginning of the school year (students, after all, are usually in the market for computer equipment at this time).
Be aware of when new products are released. Why? When a new model of a computer or TV is released, the price of the previous models usually drops. Here's the great thing about that: the newest model of a tech product probably has many similarities with the prior model. If you're okay not having the newest bells and whistles, you can buy a very comparable product for a significantly reduced price.
Buy Bundles
Lots of tech companies and retailers offer tech bundles. In the computer market, a tower desktop might come bundled with a monitor. A video game system might come bundled with a couple of video games and a new controller. Bundles are a great way to buy more for less. Oftentimes, the bundles will grant you several items for cheaper than it would cost to buy them all individually. Of course, do the math on all the bundled products before you buy. If there are items in the bundle you know you're not going to use, it might be better to buy the bundled items you want individually.
Buy Used
You can get amazing prices on used computers, TVs, and peripherals. But buy with caution. Unlike a used book or used furniture, it's difficult to gauge the condition of a used TV or computer because all of the functional components are inside. You can't tell if the circuitry or hard drive is damaged unless you open up the computer. This makes used tech products a big risk.
But, if you can get a used product for a cheap price, and you test it before you buy it, and you don't plan on being heavily reliant upon it, then it might be well worth the cost. Some of the best used products to buy are used monitors, mice, and keyboards.
If you want to get the best deals when you're splurging on tech, be sure to shop prices, buy seasonally, buy bundles, and buy used products when you think it's best. Happy splurging!
The Conversation
Follow the reactions below and share your own thoughts.