How to Make Money Gaming on Any Device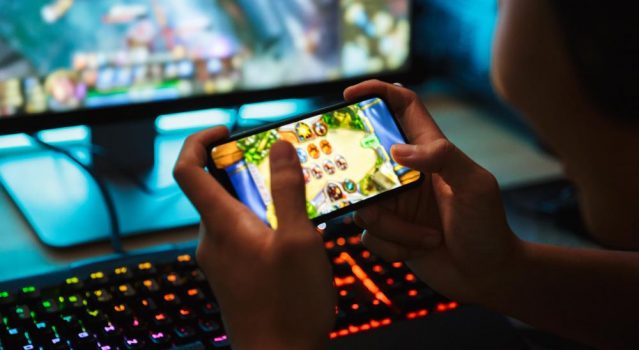 You're finding yourself spending most of your free time gaming, and you're beginning to realize that you're winning most of the games you play. Do you think you have what it takes to become a professional gamer? Do you think you could make money on your gaming devices? With the gaming industry expanding rapidly and video game tournaments becoming more popular, you can become one of the leading video gamers in the country or world if you focus on your talents. Whether you're gaming on a laptop, console, or mobile device, here are some ways you can begin to make money on gaming.
Earning Money on Your Mobile Device
Almost everyone today has some type of phone, most likely a smartphone. With smartphones, like iPhones, Google phones, or Android phones, you're able to download thousands of games from their app stores. Looking into the right phone for you is the first step to take if you are a serious mobile gamer. Phone companies are continually updating their phones to provide better experiences for their users, such as Google releasing their new Google Pixel 3. This new phone offers wireless charging capabilities, which is great news for mobile gamers, who won't be confined to sitting near a wall while their battery runs out. Additionally, there are apps that can make you money while gaming, such as Blast. Blast allows you to create a savings account where money will be deposited when you complete missions and battles on games.
Earning Money on Your Laptop
Having a laptop can open a new realm of possibilities when it comes to online gaming and making money. Having a laptop that meets your gaming needs, with large storage capacity, resolution, and processing speed, can help you be a better gamer. If you are a seasoned gamer, you may have your own preferences on how you want your laptop to run in order to play the games you love, which is why you may consider to build a gaming laptop computer yourself. Creating your own computer can give you an advantage over other gamers. When creating your own laptop computer, you can choose which processor fits your needs, and you can customize the memory, graphics, and motherboard.
Once your computer is complete, you can make money in numerous ways. You can screen record yourself playing video games and then upload the videos to YouTube. Once you grow a decent-sized list of subscribers, YouTube will pay you to continue to play and upload yourself playing video games. Other ways you can make money online by using your laptop is by playing online slots games, which can also be played through mobile apps as well.
Earning Money on Your Gaming Console
Another way to bring in the big bucks while playing video games is through a gaming console. Popular gaming consoles include the PlayStation, Xbox, and the Nintendo Switch. Gaming has become a popular activity for many people, especially teenagers and young adults, who have grown up with technology their whole lives. Because of this, there is an active gaming community that plays together, interacts with each other, and learns from each other. With numerous technological advances, gamers are now able to share their skills with others across the entire gaming community.
The most popular way good gamers make money is through a video game platform called Twitch. Through Twitch, users are able to record their screen while playing a game, as well as themselves, while giving commentary on their tactics and strategies during a game. With Twitch, and a gaming console like the new PS4 Pro, users can ask for donations by putting a donation tab on their profile, and watch the money roll in. While not many users will receive $1000 donations, people can throw in a buck or two to give you support. Additionally, you can receive money in the form of "bits," where viewers can cheer on their favorite gamers and send them bits, which can be redeemed for a percentage. If you end up gaining a large following with over 500 regular subscribers, you can earn $2.50 a month from Twitch. Additionally, as your subscriber list continues to grow, ads will begin to pay you around $250 per month for every 100 subscribers you have.
Overall, there are numerous ways to put your gaming skills to use and earn money. Whether you have a mobile device, laptop, or gaming console, you can put your time and effort to a pastime you love and begin making a revenue.
The Conversation
Follow the reactions below and share your own thoughts.