How To Use Google Maps Offline On Android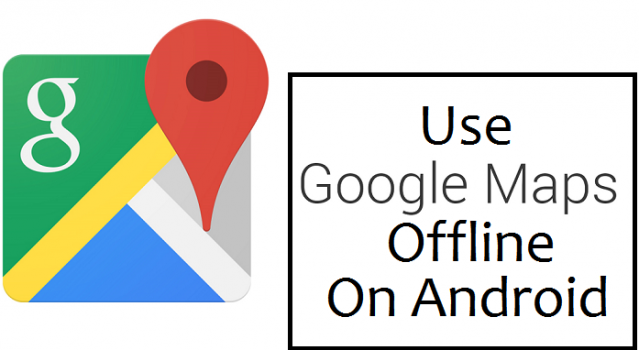 Hey there, this article is aimed at teaching you how to use Google maps offline on Android. Google maps is a very useful tool that works pretty well. If you love locations, geography, traveling, discovering places etc, then Google Maps should be your friend.

Google Maps has been around for quite a long time now and has been getting timely updates to fix bugs, add improvements and lots of other user-friendly features. Google Maps is different from Google Street view.
Like every app, there are users who just use it lightly without any serious intention and there are still power users who want to dig out every aspect of an app.
You should probably know where you belong, either a power user or just an ordinary user. But since you are here to find out something related to Google maps app, that means you want to dig in. 
Using Google Maps is really fun but the best part of it is if you can actually use it anytime. Like most apps, Google maps literally works online and needs to connect to the internet, download map data, get user location and other information. All these require internet access.
Sometimes, you might need to access a particular map data or location, place or find something nearby via Google Maps, but you aren't connected to a mobile network or a WiFi Hotspot. This is where things get complicated a little bit.
You know Google Maps is from Google and Google is very good in putting things right. So what do you expect?
Well, Google Maps has a special feature that will enable you to use the app as much you want, even without network access. And that's where we are headed. In a bit, you will know how to use Google maps offline on Android.
So, how would it feel like to use the Google maps app even without a SIM card or a connection to a wireless network? 
Trust me, the feeling is great, I use Google maps offline on Android and the feeling of not bothering about internet connection is great.
The truth is that you can comfortably use Google Maps offline and access the map data as if you were online.
Let's quickly run through all the steps you need to follow to effectively use Google Maps offline on Android.
How To Use Google Maps Offline On Android
Below are the steps you need to follow as well as what you need to do to be able to use Google Maps offline on Android.
1. Download and install the Google Maps apps to your Android smartphone. 
2. Open the Google Maps app and wait for it to load. It takes some seconds to load at first.
3. You should now be welcomed with Map on screen. You will need to also enable location services to enable Google Maps work properly. If the location is on, your precise location will be shown on the Map.
4. Type the Area you want to view in the search box and select the accurate location from the list/results that will appear. You need to have an area you want to always view offline. 
5. Click on the three dotted Menu button at the top right of your screen, just after the search icon.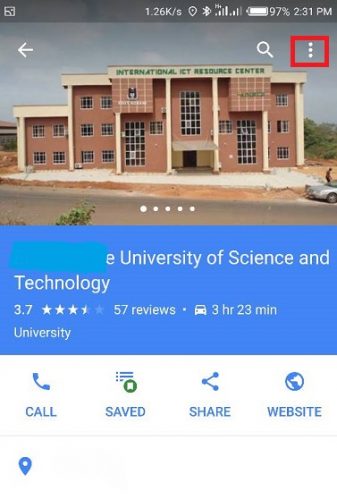 6. In the list that will pop out, select Download offline area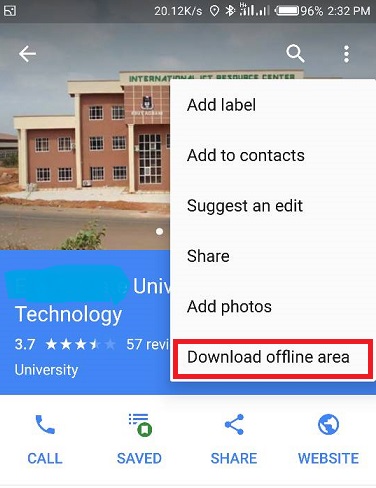 7. Select the area you wish to download so as to view it anytime, offline.
8. Click on Download at the bottom left of your screen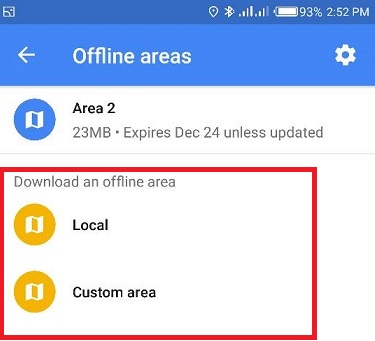 The Map data for that area will be downloaded to your device. It might take a while, depending on the size of the data and the network speed.
This is useful when you need to access the data of a location any time even without mobile data connection or WiFi. You should always download your favorite locations so that you can navigate it offline any time you wish.
Once the data is downloaded, you will get a notification that it has been successfully downloaded.
You can go to the Settings and set the offline areas to update automatically when you are connected to a WiFi network.
To view the offline areas anytime.
1. Open the Maps app
2. Click on the Menu icon at the top left of the app, before the search bar.
3. Scroll down and select Offline areas
4. Select the area you saved in the list of offline areas and you can view everything you need to see on the Map.
It's as simple as ABC. The trick is, download the map of an area you would always need to access even offline, and that's all. You might need to update the Map's data later through WiFi.
And that's a wrap. I hope this article has taught you how to use Google Maps Offline on Android.
The Conversation
Follow the reactions below and share your own thoughts.