How To Stop Facebook From Autoplay On Phone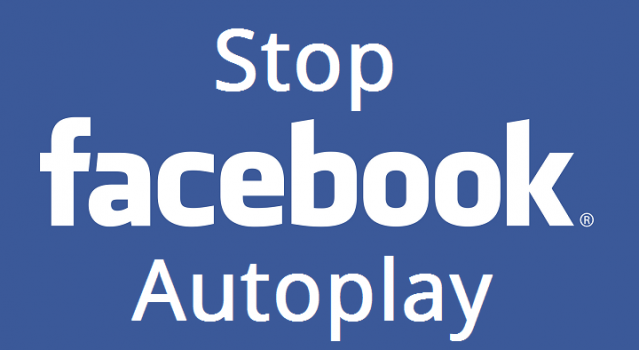 Want to stop those Facebook videos from playing automatically on your device? This article is aimed at teaching you how to stop Facebook from autoplay. In this article, you are going to learn easy steps on how to disable videos from playing automatically on your Facebook newsfeed. 
It's so annoying when facebook videos autoplay. But don't be dismayed. It takes less than a minute to stop Facebook autoplay on phone.
When videos autoplay on Facebook, it could consume your data plan in a twinkle of an eye. Often you find out your data bundle plan disappears faster than the smoke from a rocket. Trust me, Facebook videos might be the reason why your monthly data allotment always finishes before the actual expiry date.
One amongst many things that contributes to the fast disappearance of your data plan is the videos that autoplay on your facebook. One might probably not want to watch the video but because your facebook is set to autoplay, it automatically plays the video and you find yourself watching it.
When you come across a facebook video on your news feed, there's always a symbol at the bottom left of the screen view that gives you an option to either put the video on mute or on speaker.
I have a friend, he wanted to stop Facebook from autoplay on his Android device and he actually put a particular video on mute. Uhm, Putting it on mute doesn't necessarily guarantee you being on the safe side in regards to your data. As long as the video is still playing, your data keeps burning.
If you are on a free wifi though, stopping Facebook from autoplay won't even be an option. Right? Yeah. It won't.
I'll cut straight to the chase and tell you how to stop videos from playing automatically on Facebook. I'll show Android users and iPhone users how this can be achieved.
You don't have to worry or work yourself up. There's a solution to at least all problems.
Let's go.
How to Stop Facebook from Autoplay on Android
1.  Open Facebook.
2.  Start by tapping the utility icon on the right side (the three stacked bars).

3. Click "app settings ".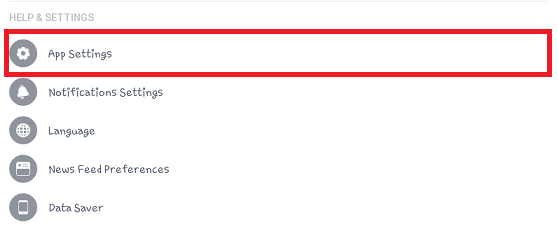 4.  Next, Click on "Autoplay ".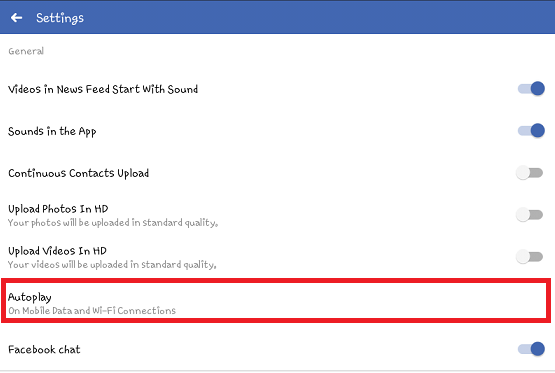 5.  You then see a pop – up on your screen.
6.  Turn autoplay videos off by selecting "Never Autoplay videos".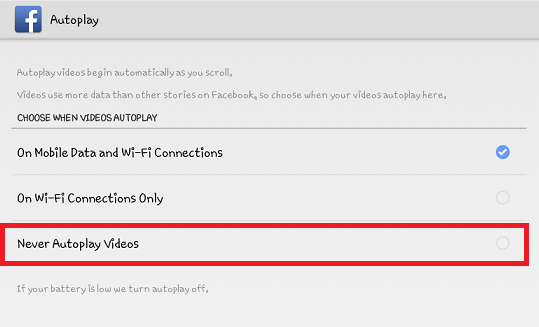 How to Stop Facebook from Autoplay on iPhone
If you are an IOS user, iPhone specifically, you are not left out. Here is how you can stop videos from autoplay on iPhone.
1. Open Settings from the Home screen of your iPhone or iPad.
2. Scroll down and tap on Facebook.
3. Tap on Settings.
4. Under the Video section, turn On the option for Auto-play on WiFi only.
And there you have it. That's how to stop Facebook from autoplay on iPhone or iPad. I hope it helped you.
Conclusion
Okay, guys, that wraps up this post on how to stop Facebook videos from autoplay. I hope this short article helped you. If you think Facebook is not the cause of the alarming decrease in your Data size, just take a second to check how much data your Facebook App is eating. You'd be amazed.
One of the ways to optimize the high rate at which your data is being consumed by Facebook is to stop Facebook videos from autoplay.
If you experience any challenges while trying to perform any of the steps above, feel free to contact us and we will be of assistance to you immediately.
Frequently Asked Questions And Answers
Q: How can I do this on a desktop computer?
A: First, you click the drop-down arrow on the far right and choose "settings". Choose videos from the left sidebar, the screen lets you choose to either turn auto play videos off or on.
Q: Can I turn on Facebook autoplay?
A: Sure, you can turn on Facebook autoplay by repeating the same steps. But this time your final option will have to be the opposite of the previous.
The Conversation
Follow the reactions below and share your own thoughts.