Mozilla Firefox: Prevent Virus Scans Delays
Whenever you download files using Mozilla Firefox's default download manager, the browser forces files to be scanned for malware and viruses after downloading. If you only download files from legitimate sources, you can disable this scan to speed up your Firefox experience.
Firefox's has integrated itself the security policies of the Windows OS. By forcing the scan after download, most users will be better secured. However, on many systems this delay is very noticeable and is not required if the user only downloads from trusted sources.
Also, because of this marriage, errors with the security policy within Windows can prevent Firefox from working correctly. If this occurring, disabling the security scan can get Firefox to download and open files again.
[+] about:config
      [-] browser.download.manager.scanWhenDone
           [-] Value = 0
1. First navigate to address bar, type about:config and go.
2. Click on 'I'll be careful, I promise', if warning window appears.
3. Search for browser.download.manager.scanWhenDone.
4. Then right click on preference name 'browser.download.manager.scanWhenDone'. Click the toggle and the value will get changed to False.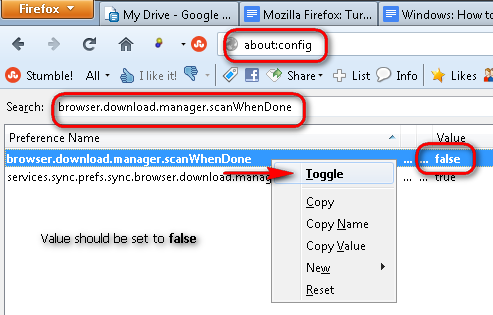 After following the above instruction, Firefox will skip the security scan for downloaded files. The prevents the lengthy delays that can occur after downloading files. Certainly, this should only be performed on downloads from trusted sites. Most users will benefit from the added security that the malware security check provides.
If you decide the speed benefits do not outweigh the security risks, then you can re-enabled the security check by changing the value to True once again.
Vishwanath Dalvi is a gifted engineer and tech enthusiast. He enjoys music, magic, movies, and gaming. When not hacking around or supporting the open source community, he is trying to overcome his phobia of dogs.
View more articles by Vishwanath Dalvi
The Conversation
Follow the reactions below and share your own thoughts.