Posted September 12, 2014 by Vishwanath Dalvi
Google has released Chrome 37 for Linux, Mac, and Windows. This new version of Chrome is updated with improved font rendering on web pages with DirectWrite support on Windows OS. With DirectWrite, we can expect improvements in performance and better-looking text, without requiring any changes from web programmers. However, some users have complained that after […]
Posted September 5, 2014 by Vishwanath Dalvi
Google recently released the 64-bit version of Google Chrome. This new version for Windows promises better speed, security and stability than Chrome's 32-bit version. Since most Windows users are running a 64-bit operating system, the 64-bit version of Google Chrome can take full advantage of this configuration to give better speed and performance metrics. When […]
Posted January 28, 2012 by David Kirk
We have all accidentally closed a tab in Google's Chrome browser. This can be a very frustrating situation. Chrome is quite forgiving and allows you to easily reopen the closed tab, even if you have closed other tabs after it. These instructions for windows and mac computers will show you the different ways for restoring […]
Posted September 20, 2011 by Rob Rogers
If the version of Google Chrome you are using has the latest New Tab page, then you can quickly and easily create web apps of any of the sites listed on the Most Visited tab. This is a great way of making sure that your favorite sites are a click away.
Posted March 17, 2011 by Rob Rogers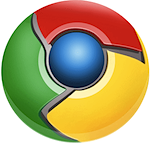 If you using a desktop or a powerful laptop, you should take advantage of harware acceleration in your Chrome web browser. This isn't recommended for netbooks.
Posted February 22, 2011 by Rob Rogers
If you don't like using the built-in Chrome PDF Viewer, you can disable it and go back to doing like you did before.
Posted December 9, 2010 by Rob Rogers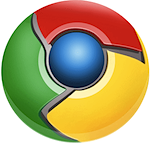 If you need to uninstall an app that you got at the Chrome Web Store because it wasn't what you wanted or you found something better, just follow these steps.
Posted June 25, 2010 by Rob Rogers
If you want to change where Chrome deposits downloaded files on your computer, you can change the default location or even have Chrome ask you where to save each file before it is downloaded.
Posted December 28, 2009 by Rob Rogers
By default, Google Chrome will use the proxy settings that Internet Explorer uses. If you wish to use a different proxy server (or disable the proxy completely) you need to append a switch to your application shortcut.
Posted August 23, 2009 by Rob Rogers
Google Chrome provides you with an great history of your downloaded files. If you use this feature, you can make a button to place in your Bookmarks Bar to provide you with easy access.
Posted August 4, 2009 by Rob Rogers
If you've tried out the new themes for Chrome but have found yourself longing for the original theme, you can easily reset your browser to its original look.
Posted October 29, 2008 by Rob Rogers
Starting with version 0.3.154.6, you can use a simple command line switch to open the browser in Incognito mode. This means you can easily create a shortcut and not have to rely on javascript tricks to get the privacy you desire.